Our leaders
Mr. Pradeep Kumar Singhi – Chairman
Mr. Pradeep Kumar Singhi has over 35 years of diversified business experience. Being a prominent and well respected professional in the business community, his contributions have made him the pioneer of quality service in our organisation and all over the country.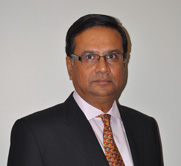 Mr. Rajiv Singhi – Vice Chairman
Mr Rajiv Singhi is a Fellow Chartered Accountant having over 35 years of experience and the Joint Managing Partner of our Group. Mr. Singhi specializes in providing audit, accounting and business consulting services for the firm's entrepreneurial business which include Fortune 500 companies and has enormous exposure in Banking & NBFC sector. He has been involved in the audit of Hindalco Industries, State Bank of India, Birla Corporation to note a few.
He is on the committee of some esteemed chambers of commerce and is an independent director in several large companies including listed companies. Recently, he has been ranked as the #1 Individual Auditor in Eastern India and as one of the Top 50 Individual auditors of India by Prime Academy Rankings in 2016 . He is also a member of the Financial Review Report Board (FRRB) constituted by the Institute of Chartered Accountants of India.